Humour, comics, tech, law, software, reviews, essays, articles and HOWTOs intermingled with random philosophy now and then
Filed under: Artwork/Portraits/Caricatures by Hari
Posted on Sat, Dec 24, 2016 at 20:52 IST (last updated: Sat, Dec 24, 2016 @ 20:52 IST)
Portrait of veteran actor Alangadu Ramamurthi Srinivasan popularly known as ARS. Drawn using Krita with my iBall pen tablet.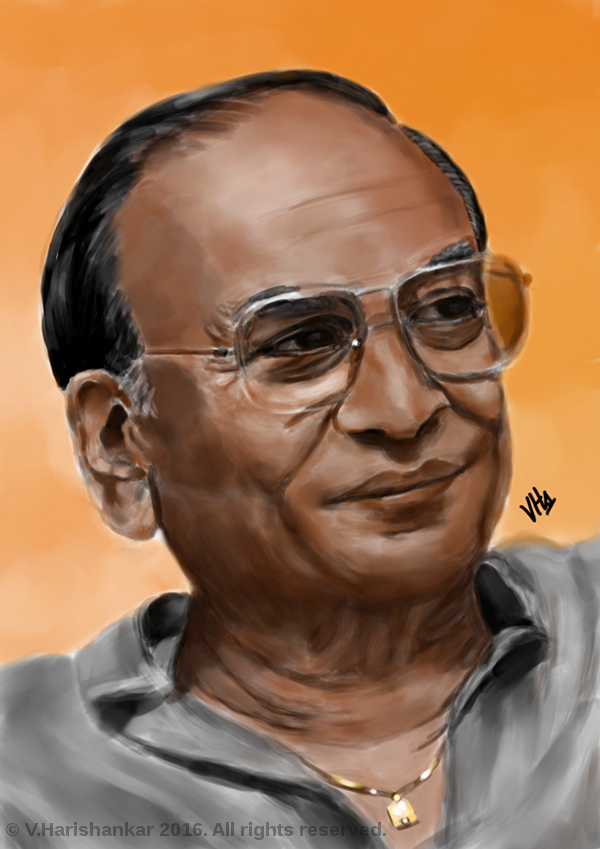 Filed under: Artwork/Portraits/Caricatures by Hari
Posted on Sat, Dec 10, 2016 at 16:46 IST (last updated: Sat, Dec 10, 2016 @ 16:46 IST)
A portrait of the Late Hon'ble Chief Minister of Tamil Nadu, Madam J Jayalalithaa.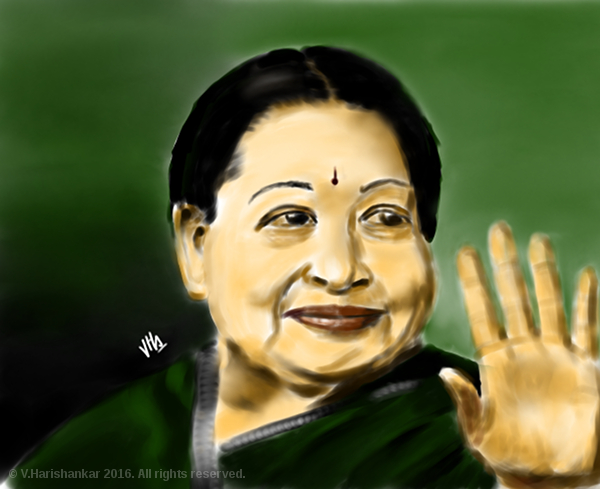 Filed under: Internet and Blogging by Hari
Posted on Thu, Aug 18, 2016 at 21:33 IST (last updated: Thu, Aug 18, 2016 @ 21:33 IST)
I guess I've been online for a lot longer than the Facebook/smartphone generation, but here are a few signs why I feel I don't belong to this era of netizens:
I don't put up selfies or personal updates every other day on social media. In fact, I rarely post photos of myself, being extremely uncomfortable about it.
I don't share or forward memes or social messages.
I don't play online (social media) games.
I still consider e-mail as a more mainstream communication channel than WhatsApp. On the other hand, I still remember instant messaging before WhatsApp became the synonym for it.
I am slower to respond to online messages.
I favour original content over copy-pasting the opinion or messages of others.
I don't really stay online all day long.
I am still sceptical of social media "news", until I can confirm the same with a mainstream source.
I was aware of "net neutrality" and its technical implications long before it became news with Facebook's internet.org.
And last but not the least, I still use this blog as a presence on the web.
I guess my age is starting to show.

Filed under: Bits and Bytes by Hari
Posted on Mon, Aug 15, 2016 at 21:19 IST (last updated: Tue, Aug 16, 2016 @ 20:26 IST)
I've ranted in depth before about mega-serials (a.k.a. soap operas) but I wanted to add a few more points that make them particularly cringe-worthy:
Exposition - check.
Unnatural dialogues - check.
Inconsistent characterization/lack of character development - check.
Lack of psychological depth - check.
Infantile and illogical plot twists/turns - check.
Deus ex machina - Check.
So apart from suffering from other issues too detailed to go into here, mega serials suffer from severe deficiencies in story-telling. I simply cannot get over the fact that they remain so popular among the general public. I guess the only reason is that mediocrity has become so common-place that people have no choice but to accept and digest it, so much so that it has become the staple diet of television.
What ever happened to good storytelling and creativity?
Filed under: Site management by Hari
Posted on Mon, Aug 15, 2016 at 18:40 IST (last updated: Mon, Aug 15, 2016 @ 18:42 IST)
After a long time, I am changing the style of the site. Thanks to the common CSS and header image I implemented last time, it was a lot easier this time to convert the site to a new look and feel. Hope this bit of freshness gives some impetus to my blogging as well. (If you're not able the view the new look, simply refresh the page)
Here's a screenshot of the prior style, preserved for posterity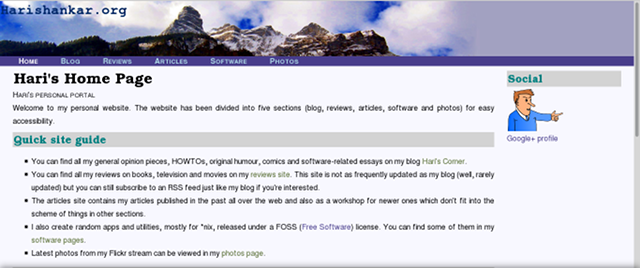 Filed under: People and society by Hari
Posted on Fri, Aug 12, 2016 at 22:00 IST (last updated: Fri, Aug 12, 2016 @ 22:00 IST)
Criticism comes in several flavours. As long as people have opinions and feel the need to express themselves, there will always be critics. And there are some people who make criticism their sole job. While criticism can be either positve or negative, constructive or destructive, it is still only worth the credibility of the critic. It is an unwritten rule that a professional critic who has deep knowledge of the subject of criticism is far more respected than the critc who criticizes casually without much thought process or just for the sake of cheap publicity.
However, no matter what the nature of criticism, asking the critic to prove their worth/expertise in the subject of criticism before being qualified to criticize is not a proper answer. It is only a defensive tactic. If every critic has to prove their worth, then there would be too few critics and not much of criticism at all. A lot of valid criticism would remain unwritten/unspoken.
After all, people employed in the press/media have to live and just as the average journalist cannot be an expert in every topic he covers, the average critic cannot be expected to be so knowledgeable as to understand the finer nuances of every subject/person he/she criticizes.
Though I feel strongly about critics sometimes, I still think that overblowing the role of the critic is simply giving more power to their words. By arguing against critics, one only gives more power to the critic. If one feels that a criticism is unjustified, invalid or plain malicious the best solution would be to address the specific points of criticism which require a reply (if possible) in a dignified way or simply ignore it.